Storage Silo Systems
Features :
Aluminum, Mild Steel & Stainless steel construction
Welded/Bolted configuration
Single/Double chamber silos
Blending& Mixing silos
Silo accessories
Silo Fabrication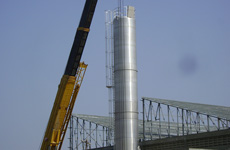 Silo erection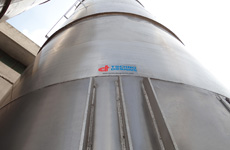 Finished Silos
Our Silos are designed, fabricated, delivered and commissioned in an extensive range of applications. Every silo is developed according to the customer's unique requirements and constraints. Depending on how the silo is to be employed into the system, we provide storage, mixing and blending solutions.
Designed specific for a location, our engineers use the applicable wind, snow and earthquake loading data to design a unique system. Based on the properties of the bulk material to be stored such as bulk density, wall friction, consolidation and yield, we determine the appropriate silo system and the applicability of some ofour wide variety ofaccessories.
With a very skilled team and quality infrastructure, we can fabricate quality silos in Aluminum, Stainless Steel and Mild Steel construction, available in both fully-welded and bolted configuration.
Silos of volume upto 200 m3 can be fabricated and transported from our manufacturing facility. Our trained workers and engineers are experienced and capable of performing the mechanical and electrical installation and commissioning ofthe system.
---
Fluidization
Based on our assessment of the requirement, we provide air-pulsation based fluidization system, cloth or nozzles as an accessory for the silo system. This system ensures detachment of the bulk solids which are not free-flowing, thereby i n d u ci n g m ovem en t for th e con seq u en t unloading.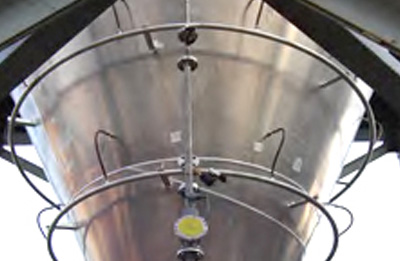 ---
Blending Silo
In order to address the difficulty endured due to variations in process or raw material batches, we provide blending solutions so that you achieve homogeneity in the discharge of raw material. With options of a centric blender, mixing chamber and screw blender, we will have the correct solution for you. Our blending system can be setup standalone or in a loop based on the requirements.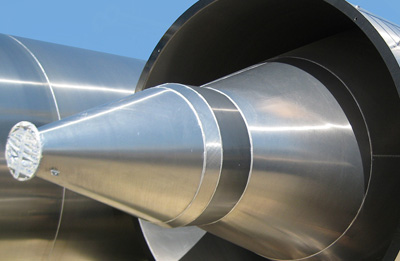 ---
Load cell arrangement
Both short skirt and long skirt silos can be provided with a load cell mounting arrangement for real-time weight monitoring. This gravimetric measurement system is provided with a control panel. Our engineers will help the incorporation of this data into an existing or a new PLC-HMI process monitoring system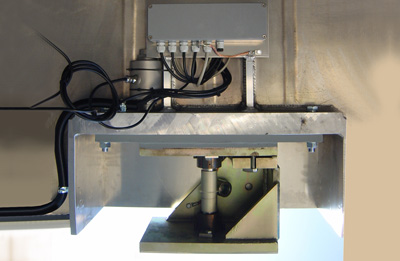 ---
Bolted Silo containerization
For silos that are to be transported to remote locations, or exported, we provide the option of silos in bolted configuration. All panels for the shell and the cone are pre-fabricated at our works and are shipped to the installation site for assembly. The requirement for on-site work is reduced and specialized welding personnel are not required for erection