Rotary Airlock Valve Manufacturer and Rotary Valve Manufacturer India
Techno Designs is a leading Rotary Valve manufacturer India, and we also specialize in manufacturing and supplying Rotary Airlock Valve India. Our standout quality rotary valves are sturdy and long-lasting. We cater to a number of leading industries as their Rotary Valve manufacturer India such as-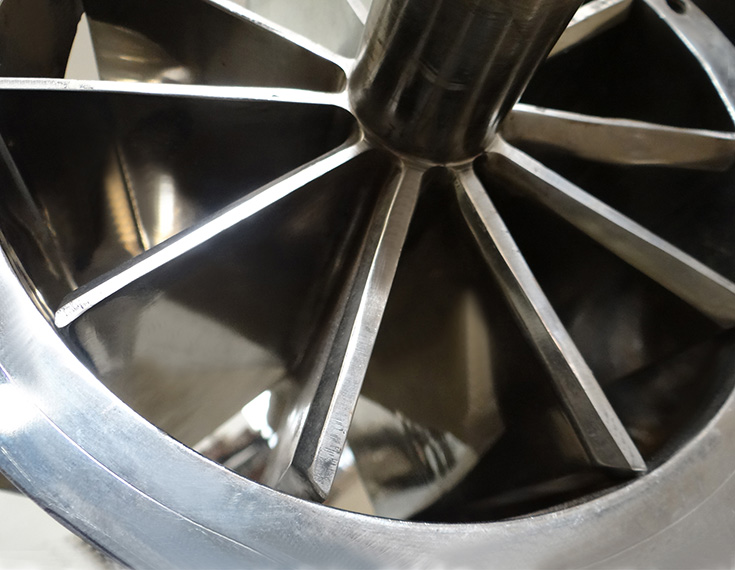 Minerals and Mining industry where we provide wear protection facilities in our rotary airlock valves India.
Food Production industry where reliability and standardization of processes is the key. We offer seamless rotary airlock valves to businesses in this domain.
Cement industry where the handling of raw materials and mixtures requires high-quality rotary valves India.
Plastics industry where a powerful and sturdy rotary valve is the need for economical and reliable handling of products and material.
At Techno Designs, we offer a range of products as the go-to Rotary Valve manufacturer India for various businesses around the world.
Best-in-class Rotary Vales From A Leading Rotary Airlock Valve Manufacturer
At Techno Designs, we believe in the longevity and strength of products. Therefore, we impart the best properties to our rotary airlock valves so that your business and manufacturing unit can trust us for your needs.
Here are some basic properties of our rotary airlock valves-
We manufacture rotary airlock valves and rotary valves through processes that have been followed and nurtured by us over the many years of experience we have.
With the right processes, we can expect the right outputs. And, thus, our rotary airlock valves are high-quality parts that will last a lifetime.
We employ only the highest quality raw materials in the making of our rotary airlock valves, and so we can guarantee the quality of our valves and industrial equipment.
Our rotary valves are ideal for extreme pressures and perform well in these conditions.
Our rotary airlock valves are wear-resistant parts that don't degrade after coming in contact with moisture and chemicals.
Our valves lead to smooth and low-noise operations leading to seamless processes.
Minimum air leakage is a given with our rotary valves.
Our rotary valves have large throat openings that enable you to fill in material quickly.
At Techno Designs, you get the best Rotary Airlock Valve manufacturer who can handle all of your industrial equipment needs with proficiency.
Various Rotor Designs and Best Quality With The Fastest Growing Rotary Valve manufacturer
Rotary valves find a variety of use cases in the industrial settings of today. We have the capabilities and the required team of engineers and technicians to cater to diverse requirements where custom rotary valves or unique designs are needed. We are experienced in handling specific requirements and with us, you get the following benefits-
Our rotary valves are compatible with various machines, leading to wide areas of applications.
Our rotary valves work with minimum maintenance needs and thus save a lot of time and costs.
We are the Rotary Airlock Valve manufacturer who makes easy to clean rotary airlock valves that can be demounted and cleaned whenever needed to maintain the hygiene when used in food production industry settings.
Our rotary valves can maintain constant rates of material transfer through conveyor belts and can handle a variety of materials seamlessly.
We manufacture valves in stainless steel, cast iron, and cast steel where we use the highest grade of raw material to build your industrial equipment.
When you think about rotary valve manufacturers India, think about Techno Designs. Contact us for any of your rotary airlock valves needs today.
---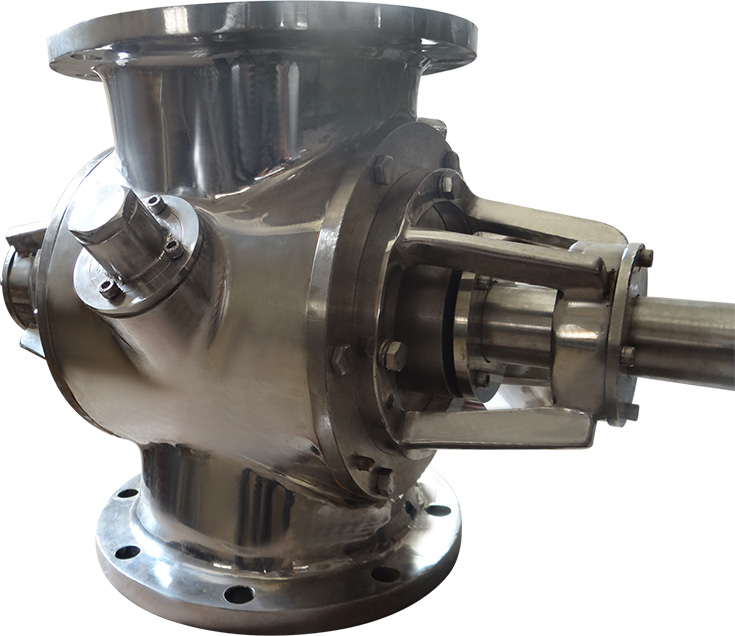 Salient Features:
Robust stiffened body fully cast in CI, CS and SS MOC
Large throat opening allowing for high filling efficiency
Heavy Shaft to avoid deflections and body to rotor contact-wear
External bearing housing to prevent contamination and wear
Precision machining providing minimum air leakage
Extensive range of rotor options available giving wide range of applications
Packing gland type or graphite ring seal available
Body mounted vent openings
Smooth low-noise operation
Maximum axial and radial clearance of 0.2 mm for minimum air leakage comes standard
Chain sprocket or Direct drive options available with ABB or CG motors
---
Our valves come with multiple rotor options to suit the wide variety of requirements of different products that are to be handled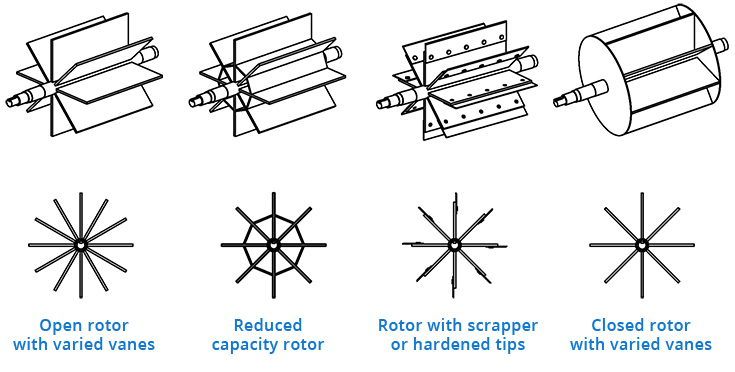 ---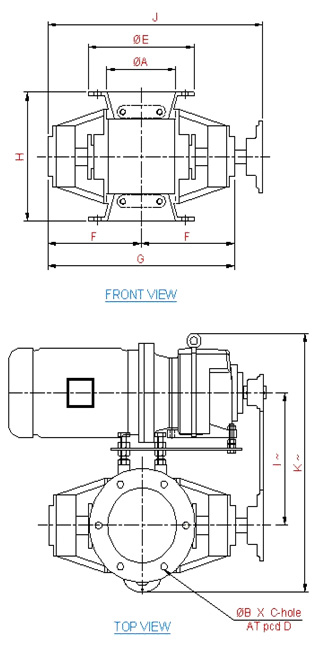 RAV SERIES R
| DIM | R150 | R200 | R250 | R300 | R400 |
| --- | --- | --- | --- | --- | --- |
| A | 150 | 200 | 250 | 300 | 400 |
| B | 18 | 18 | 18 | 18 | 18 |
| C | 08 | 08 | 12 | 12 | 16 |
| D | 242 | 298.5 | 362 | 432 | 540 |
| E | 250 | 300 | 350 | 420 | 500 |
| F | 550 | 590 | 660 | 830 | 1000 |
| G | 286 | 300 | 323 | 354 | 410 |
| H | 350 | 400 | 450 | 530 | 630 |
| I | 175 | 200 | 225 | 265 | 315 |
| J | 280 | 343 | 406.5 | 265 | 315 |
| K | 690 | 630 | 680 | 800 | 1050 |
---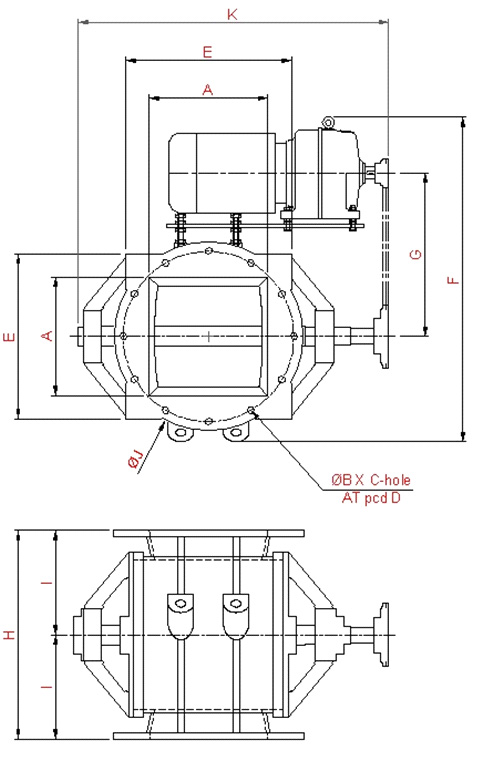 RAV SERIES RS
| DIM | R150 | R200 | R250 | R300 | R400 |
| --- | --- | --- | --- | --- | --- |
| A | 150 | 200 | 250 | 300 | 400 |
| B | 18 | 18 | 18 | 22 | 22 |
| C | 8 NOS. | 8 NOS. | 8 NOS. | 8 NOS. | 12 |
| D | 190.5 | 241.5 | 298.5 | 362 | 476 |
| E | 230 | 279.5 | 343 | 407 | 533 |
| F | 203 | 252.5 | 278.5 | 303 | 343 |
| G | 406 | 505 | 557 | 606 | 686 |
| H | 260 | 350 | 450 | 472 | 600 |
| I | 267 | 273 | 300 | 300 | 414 |
| J | 468 | 575 | 575 | 665 | 755 |
| K | 502 | 550 | 635 | 700 | 882 |
---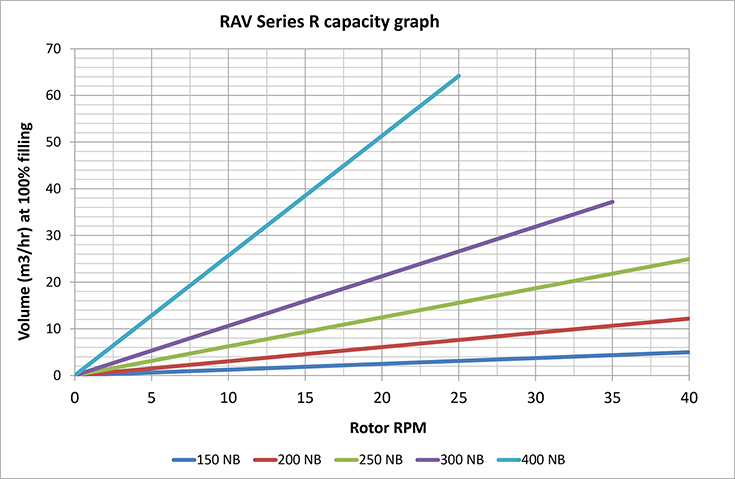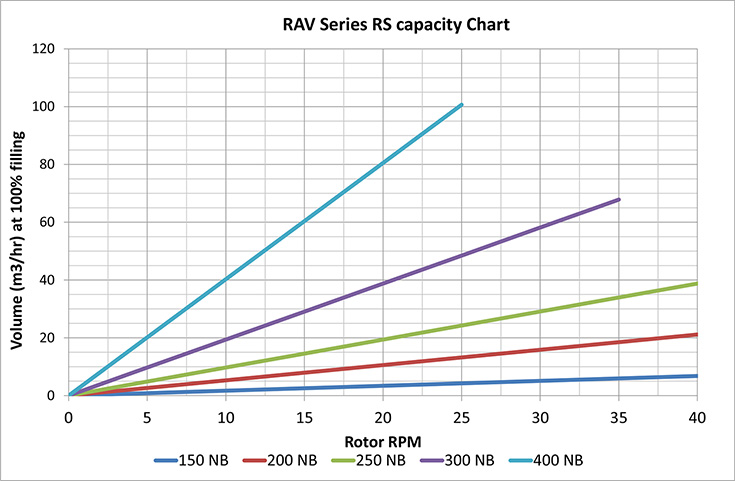 Note: The chart is prepared for guidance purpose assuming 100% filling efficiency