Rotary Vacuum Dryer Manufacture In India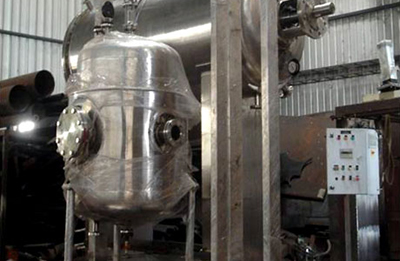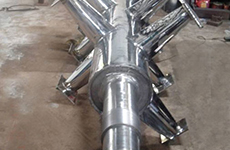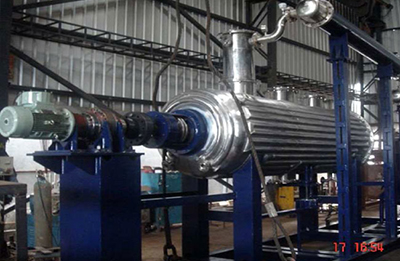 Complying with international quality standards, we manufacture rotary vacuum dryer for our Indian and international clients. These are anti leak and highly functional dryers available in various capacities for different sectors. As drying process consume intensive energy, Techno Designs manufactures most economical and cost effective rotary vacuum dryers matching all the required specifications of the clients.
In India, Techno Designs has grabbed top level position among rotary vacuum dryer manufacturing companies. With our team of qualified engineers, we are producing exceptional rotary dryer designs for various industrial purposes.
Where rotary vacuum dryer is used?
Techno Designs provides RVD for easy, clean, and effective way for drying off wet powders, wet cakes, and slurries. The process is performed at moderately low temperature to heat sensitive materials.
Construction and functions Of Rotary Vacuum Dryers
provides RVD for easy, clean, and effective way for drying off wet powders, wet cakes, and slurries somewhere either solvent is drying or recovered to be performed at moderately low temperature to heat sensitive materials.
These dryers are also known as Vanuleuth Dryer having cylindrical jacketed vessel. The vessel has a central agitator with designer blades. The blades of rotary vacuum dryer are responsible for sweeping the entire internal surface. The blades also turn the material present in the dryer and all the particles come in contact with the heated surface.
The central agitator shaft supports the bearing housing in a manner that the arrangement remains constant. The system can be cool down later by cold streaming via jacket.
The purpose of dust catcher is to prevent the material particles loss after the completion of drying process. This is a kind of bag filter mounted on the top of the dryer.
There is a condenser in which vapors are being condensed and later, collected in the receiver, which is placed beneath the condenser. A vacuum pump is there that is responsible for creating vacuum in the dryer shell with the help of receiver, dust catcher, and condenser.
You can make choice from our collective range of rotary dryers, mixers, grinders, dispersers, and other equipments and plants as per your need. Our manufactured products including rotary vacuum dryers are reliable and meet all the desired specifications along quality standards.
Operation
After starting the agitation, feed is stimulating and vacuum is functioning in the RVD, condenser, dust catcher, and receiver. After that, heating mass sources vapor to disperse, which is consequently condensed as well as collected in the receiver. The solvent recovery is max with low drying time due to higher heating transfer, intensive mixing, and vacuum.
Salient Features Of Rotary Vacuum Dryer
breaker bar, which is used to minimize lumps formation for the particle size decrease
purging that are responsible for explosion proof surroundings
Fixed scrapper blades to have scrapping rotating agitators for highly muggy material
Sampling valve is used to collect samples during the vacuum applications and
proof motors are used to get Ex-proof environment
Models Available :
Gross capacity from 50 Liters to 16,000 Liters
Material of construction: C.S, SS 304, and SS 316
Application :
Agrochemicals, Dyes & Pigments, Food Products Herbal Products, Metal Powders, Pharmaceuticals, Polymers, and Specialty Chemicals.