A Leading Silo Manufacturer India
Techno Designs is the fastest growing storage silo manufacturer India. With our wealth of experience and the effective skills of our workforce, we offer a wide variety of industrial equipment including storage silos made for all kinds of materials and suitable for all weather conditions.
With the best quality raw materials brought in from different parts of the world and with the expertise of our skilled workmen, we build customized storage silos for our customers around the world. We used the latest technology to build our industrial equipment and conform to all industry standards to create the products that go on for long and live for a lifetime.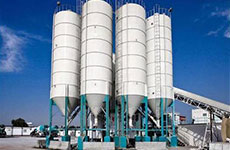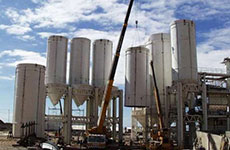 ---
All Needs Handled In-House – Silo Manufacturer India
BWe offer the highest quality blending silos that are used to reach the desired consistency of wetness and to smoothly mix the raw materials for industrial applications. With easy installation processes and high performance capabilities, our blending silos are the talk of the town.
We fabricate robust and high-performance blending and mixing silos that cater to your needs for long spans of time and are also cost-effective as they can work with the minimal maintenance services.
We build storage and blending silos using various raw materials such as stainless steel, aluminum, etc.
---
The Differentiators of Our Storage Silos
Some of the salient features of our storage silos are -
We offer different capacities and specifications of storage silos according to your specific requirements.
We are cost-effective as we don't want to leave out the small and medium-sized companies from our customer's list.
We customize storage silos according to the material you want to store and mix in the silo.
We work according to the quality standards and make sure that your components and storage silos are delivered intact with the quality specifications.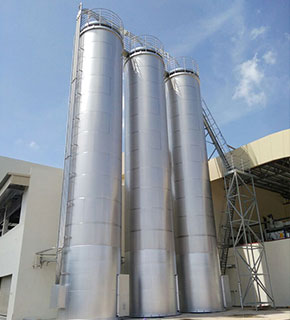 We offer best-in-class installation and maintenance services at your site.
We build storage silos that are weather-resistant and corrosion-resistant, no matter what material you store in them.
Safe and Secure silos are our specialties.
We offer add-on components and accessories that make your blending and storage tasks easier with our storage silos.
Techno Designs is a leading Silo Manufacturer India.
---
Storage Silo Manufacturer India – A Wide Variety At One Place
When you need industrial components that are trustworthy and reliable, we can help you. With our expert engineers and craftsmen, we design the best storage silos to cater to various industries for their highly varying needs.
We are the leaders when it comes to efficient management and bulk storage management of resources. We have catered to clients in the following industries -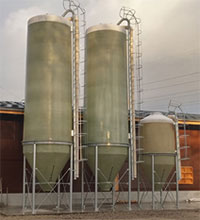 Chemical industry
Pharmaceutical industry
Mineral ores industry
Petroleum products industry
Manufacturing industry
Food and Beverages industry
We are a growing silo manufacturer India with a wealth of experience in delivering bolted and welded storage silos in India and all over the globe.
Quality is our most important benchmark, and we strive to keep it intact. With our quality-conscious manufacturing methods, we deliver the best products and components to you.
Contact us for any of your storage silos requirements, and we will build customized designs, capacities, and specifications of storage tanks just for you.