Aluminum Silos Manufacturers India
Techno Designs India is one of the leading Aluminium Silos manufacturers from India. Our customers are a satisfied bunch of people because they have partnered with us for their industrial equipment requirements. We take care of your requirements in-house and never fail to exceed your expectations.
We are manufacturers of Aluminum Silos India and we can cater to any of your requirements with a customized storage silo according to the product material of storage. We design storage silos for various applications such as storage of milk, yogurt, acids, pulp, oils, minerals, cement, and plastics.
Our extensive industry experience in manufacturing industrial equipment for various industries has rendered us capable to address all industrial demands with expertise and finesse.

---
Aluminum Silos Manufacturers Catering Huge Variety of Applications
Techno Designs India is a provider of strong and weather-resistant aluminum silos India that offers you storage silos customized according to your unique storage requirements. As per your needs, we can provide you mixing, storage, and blending silos.
Some of the salient characteristics of our aluminum silos India are-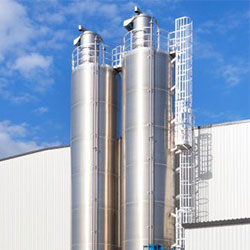 We design according to your location- keeping in mind the wind, snow and earthquake data in your geographical area.
We determine the type of storage material you use and then design the perfect aluminum silo for you.
We provide bolted aluminum silo that can be easily transported to any corner of the world.
We also cater to the requirements for welded storage aluminum silos.
Our products can be made in any capacity as per your industrial needs.
Our trained engineers can perform the mechanical and electrical installation seamlessly.
With us, you get end-to-end services for storage silos covered. Techno Designs India is your one-stop Aluminum Silos Manufacturers India.
---
Our Storage Silos Made of Aluminum
Following are the specific aluminum silos we provide you-
Storage Silos – Our Aluminum silos are designed for flexible and economic storage of all kinds of materials in bulk quantities.
Blending Silos – When you need to carry out homogenizing and blending of raw materials, we cater to you with our blending aluminum silos.
Containers and tanks – Our aluminum tanks and containers can store liquids and corrosive materials of all kinds.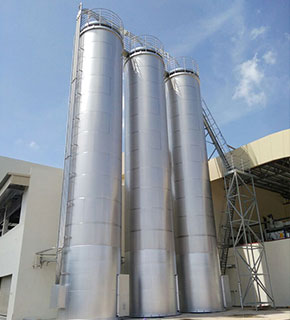 Accessories – We provide accessories with our Aluminium silos such as manholes, silo roofs, blenders, filling pipes, etc.
Silo Services – Our expert engineers and workmen provide world-class services such as silo assembly, bulk goods analysis, silo expert consultation, and many other storage silo related services.
Silo components – Our aluminum silos are not the only equipment we provide. We are end-to-end providers of silo components such as vibration bottoms, valves, fill monitoring systems, etc.
At Techno Designs India, you get all aspects of Aluminum Silos Manufacturing India covered. We are your ideal Aluminum Silos Manufacturers, India.
---
Why Techno Designs India?
If you need more reasons to partner with us as your industrial equipment supplier and manufacturer, here are some-
We are cost-effective in all our products.
We have standardized processes that make sure that we stick to quality standards every time and deliver the best components.
We are one of the most trusted brands all over the world.
Our customers always vouch for our products and services and keep coming back to us for their various needs.
Contact us with your unique needs today!